We're thrilled to announce our third annual group of 2023 Puffin Student Writing Fellows. Deep thanks to the Puffin Foundation for their great generosity in making this program possible.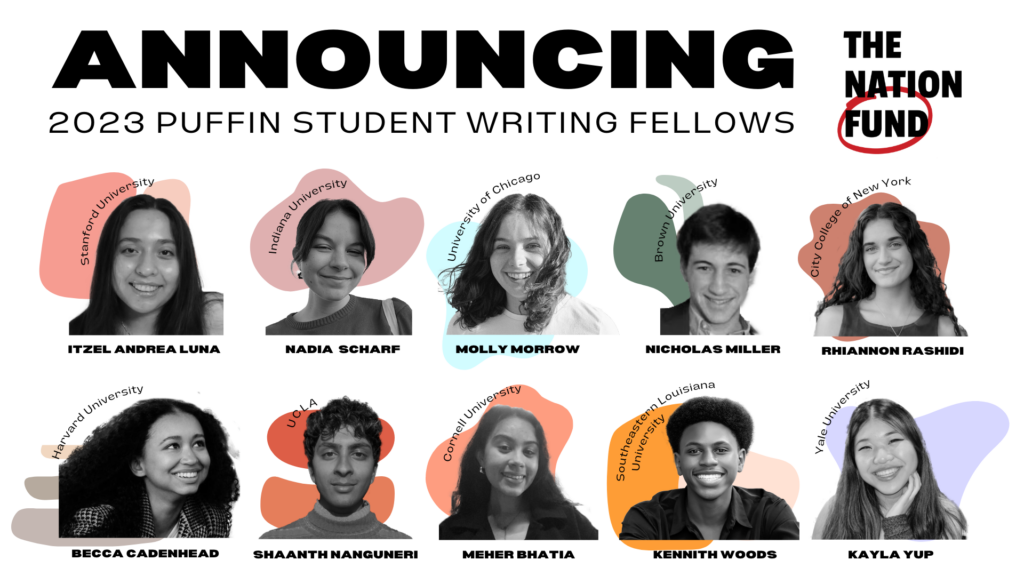 Nadia Scharf is a junior studying journalism, international studies and French at Indiana University. A former Managing Editor of The Indiana Daily Student, her work has appeared in the Indianapolis Star, on InvestigateTV and its affiliated news sites and has been cited in the New York Times. Nadia will be focusing on abortion rights and non-US politics for The Nation.
Itzel Luna is a student journalist and current sophomore at Stanford University, majoring in Sociology with Data Science and minoring in Comparative Studies in Race and Ethnicity. Born and raised in the San Fernando Valley, Luna is a first-generation college student who is deeply passionate about social justice and Latinx community reporting. Her work has been published in the Los Angeles Times, CalMatters, and The Stanford Daily, where she serves as a news desk editor. Itzel will be focusing on labor and immigration for The Nation.
Molly Morrow is a third-year student at the University of Chicago, majoring in English Language and Literature and minoring in Human Rights. She is also the Editor-in-Chief of UChicago's political newspaper The Gate. Molly will be focusing on abortion rights for The Nation.
Kennith Woods is a sophomore attending Southeastern Louisiana University in Hammond, LA. He is a Communication major with a concentration in Television and Multimedia Journalism. Alongside his major, he is also working towards a minor in Creative Writing. Woods is a staff reporter and the News Editor-in-Training for The Lion's Roar, his school's newspaper. Kennith will be focusing on sports, race and politics for The Nation.
Shaanth Nanguneri is the features and student life news editor at the Daily Bruin. They have previously interned with the Orange County Register, and this summer, they will be a reporting intern at the Sacramento Bee. Shaanth will be focusing on young people and U.S. politics for The Nation.
Rebecca E.J. Cadenhead is a senior at Harvard College where she is pursuing a B.A. in Philosophy and African American studies. She is currently completing a senior thesis on racialized fear and self-defense. Rebecca is a writer and editor at The Harvard Advocate and The Harvard Crimson, where she writes about race, ecology, and surveillance. She is a former editorial intern at Harper's and n+1 and is a recipient of a 2022 Pushcart Prize for her essay, "My First Blood." Becca will be focusing on police surveillance and racial justice for The Nation.
Meher Bhatia is a junior at Cornell University studying communication and its intersection with climate change. She is the science editor of The Cornell Daily Sun, and currently serves as an audio producer intern for The New Yorker Radio Hour. Her work has appeared in California Magazine,Living Bird Magazine, and The Yappie. She also hosts and produces a podcast of her own, "The Sun Room." Meher will be focusing on climate change for The Nation.
Nicholas Miller is a rising senior at Brown University studying English nonfiction writing and Portuguese and Brazilian Studies. He has written for the campus newspaper The Brown Daily Herald, edited a Providence-based leftist publication The College Hill Independent, and is the founder of Sole Magazine, a student creative nonfiction journal. Nicholas will be focusing on labor The Nation.
Rhiannon Rashidi is a Junior at the City College of New York majoring in Comparative Literature and minoring in Journalism. She is the editor in chief of her college's newspaper and an NBCU Academy fellow. Through years of studying the written word, she has learned to see how stories change the world, and that young people can be the ones to tell them. Rhiannon will be focusing on young people and U.S. politics for The Nation.
Kayla Yup is a student at Yale University studying Biology and History of Science, Medicine and Public Health. She writes about health policy and public health narratives, scientific research, and the societal implications of emerging technology. She reports and edits for the Yale Daily News and Yale Scientific Magazine, and is a Women's Health Research at Yale Fellow in Science Communication. She previously interned for The Nation's Health, the newspaper of the American Public Health Association. Kayla will be focusing on science and technology for The Nation.
The Puffin Nation Fund Writing Fellows program offers college students the opportunity to write for The Nation and to work with professional editors and writers to develop skills critical for a meaningful career in journalism. Through this concentrated period, fellows receive editorial and fact-checking training, mentorship, networking opportunities, and support in publishing their writing. Each student is assigned to report on specific, dedicated subject areas/beats, all with mentoring by relevant veteran writers who will offer both hard-learned advice and invaluable contacts.
The broad scope of this project is to show what matters most to young people at this highly fraught historical moment through deeply-reported enterprise journalism. Training sessions will focus on substantive reporting techniques and how to get beyond sensationalized profiles and horse-race coverage of politics. The project will tap into the lived experiences of young people and will focus on the development of a distinctive narrative voice. During the summer and fall of 2023, students will publish at least two long-form reported stories on their stated areas of interest.