November 12, 2022
Affirmative Action Benefits All Students—Even Asian Americans
By Lisa Herforth-Hebbert
In October, the Supreme Court heard oral arguments for two cases against Harvard and the University of North Carolina in an effort to overturn race-conscious admissions.
By Rachel Shin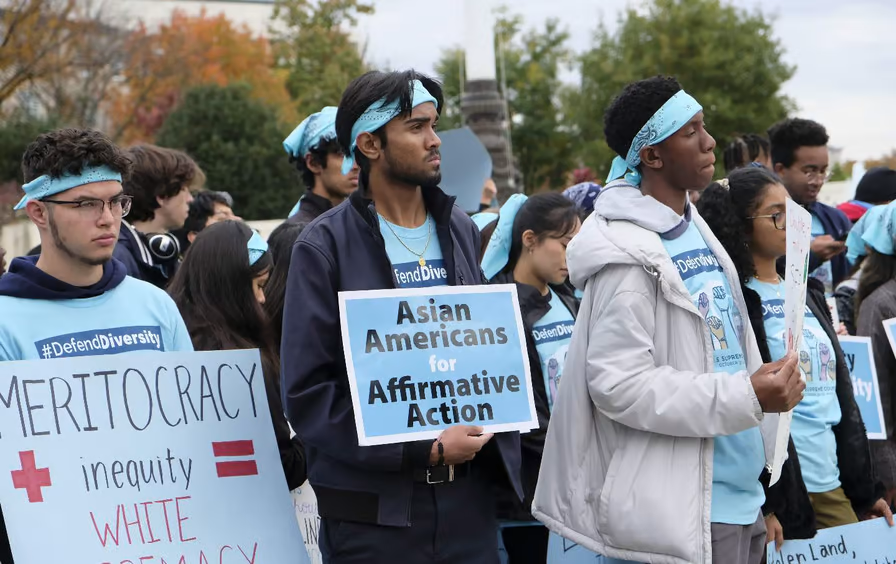 On October 31, a delegation of student protesters—outfitted in cyan bandanas and "#DefendDiversity" T-shirts—gathered in Washington, D.C. That morning, the Supreme Court began hearing oral arguments for two cases: Students for Fair Admissions (SFFA) v. University of North Carolina and SFFA v. Harvard College. The decisions could eliminate the use of race-conscious admissions—and decades of legal precedent—as the court's conservative majority appeared skeptical of the necessity of affirmative action during the initial oral arguments.
While attorneys argued legalities inside the court, students outside exchanged testimonies, frustrations and fears. David Lewis, political action chair of Harvard's Black Students Association and a student leader of the Affirmative Action Coalition, introduced student speeches and led chants, saying that he considered affirmative action to be integral to his education. "Where I grew up, I was the only dark-skinned Black student," Lewis told The Nation. "When I came to a diverse environment that utilizes affirmative action at Harvard, where I was able to engage in a Black community, I was allowed to trust my own voice and contribute to the educational environment."
Protesters from the University of North Carolina echoed Lewis's sentiment. Taliajah "Teddy" Vann, student body president at UNC, said that organizers had an obligation to "respond swiftly" and be present in the fight in light of UNC's position. "I'm the first Black Student Movement president to ever be in this position," Vann said. "I'm an accomplished student, and I would not have the ability to be in this space at all if I couldn't get into the university." The potential nullification of affirmative action sparks fears of segregation and erasure for some students. For Vann, a future without race-conscious admissions is "synonymous" with a "draconian" period of time when people of color were barred from educational opportunity.