September 7, 2022
Colleges Are in Debt, but Students Pay for It
By Lisa Herforth-Hebbert
Cuts to public funding have passed universities' financial burden on to students through rising tuition and fees. Should President Biden cancel campus debt too?
By Sarah Holtz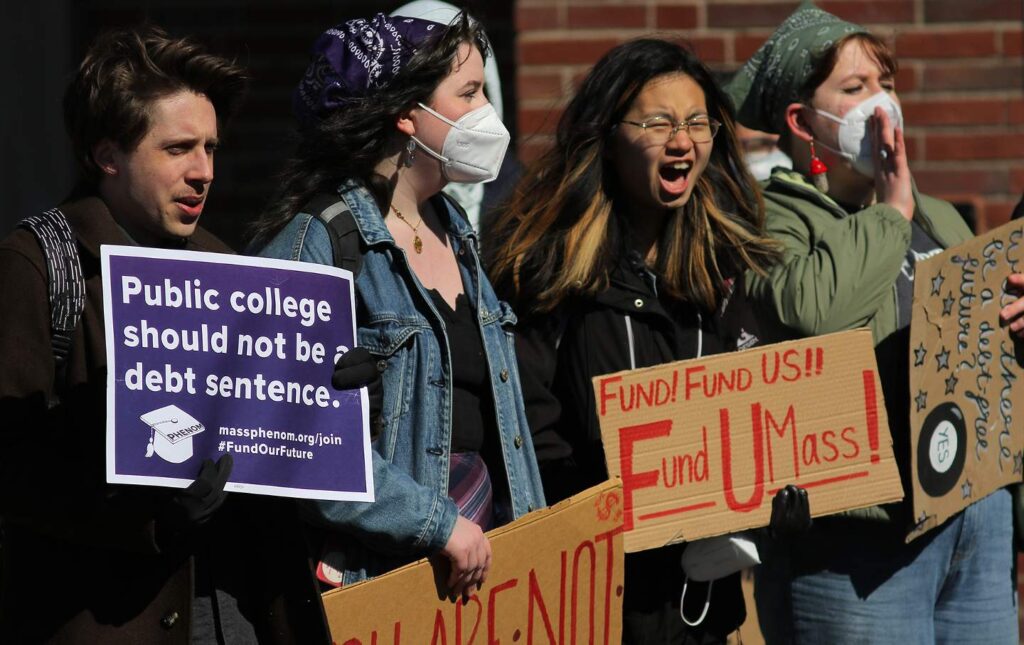 In the summer of 2019, construction workers broke ground on a $10 million capital improvement project at Holyoke Community College. By 2024, the 7,000 students enrolled at the two-year college in western Massachusetts will get to enjoy renovated academic buildings that have needed maintenance for years. That seems only fair, considering that those students will be paying 37 percent of that $10 million.
That statistic was uncovered by the Massachusetts Campus Debt Reveal Project, a coalition of faculty and student organizers that has calculated the costs and consequences of university capital debt. In August, the group published a comprehensive statewide report on campus debt. It found that, on average, each public university student in Massachusetts pays over $2,500 in fees annually to help finance their school's debt service. Massachusetts is a wealthy state, yet it has the fastest-growing tuition and the second-fastest-growing student debt in the nation.
"The campus debt problem is a symptom of the larger problem of austerity and neoliberal economics over the past generation," said Max Page, president of the Massachusetts Teachers Association. "When you start to cut funding for public institutions, then those institutions have to start doing all kinds of creative and often destructive strategies in order to survive."