October 28, 2022
Introducing our 2022 Fall Fellows
By Sarah Burke
After evaluating more than 300 applications from a highly talented candidate pool, we're thrilled to introduce our second group of Puffin StudentNation Fall Fellows.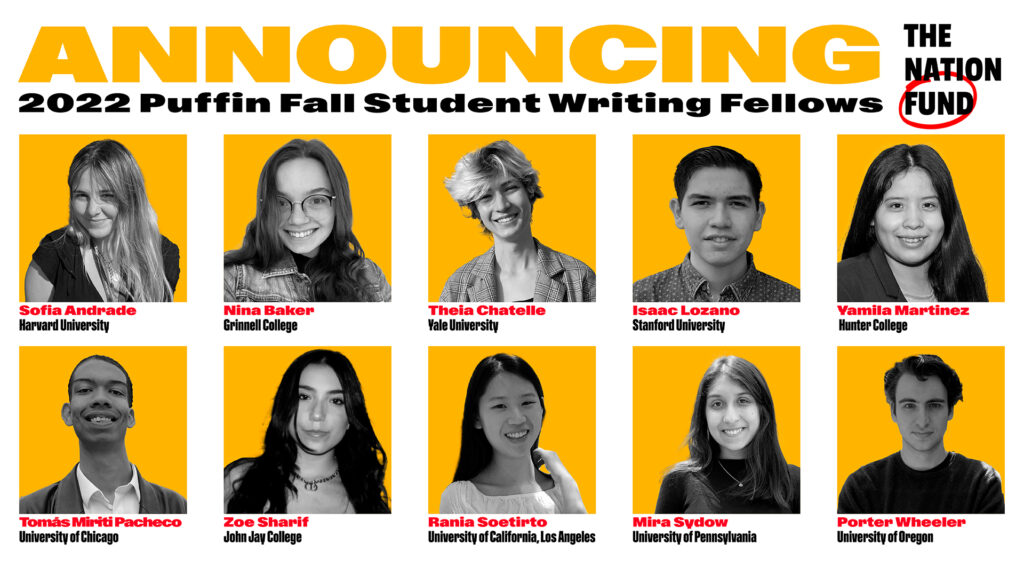 Sofia Andrade is a first-generation student at Harvard University. A Miami-based journalist with roots in Ecuador, she often writes about politics and culture with a focus on gender, race, class, and their intersections. In addition to The Nation, her work has appeared in Slate, The New York Times and The Miami Herald.
Mira Sydow is a journalist, graphic designer, community organizer, and junior at the University of Pennsylvania where she studies English and Urban Studies. She writes about youth activism, Internet culture, the South (home sweet home), and cool people more generally. Her work has been published in VICE, The Nation, Teen Vogue, and more. 
Yamila Martinez is a senior majoring in journalism, education, and international affairs at Hunter College. She is also a former national fellow of the Public Policy & International Affairs (PPIA) Fellowship Program at Princeton School of Public and International Affairs. 
Isaac Lozano is a rising sophomore at Stanford University, where he is studying political science. He is a reporter for the Stanford Daily and previously interned for the Los Angeles Times' opinion page and Stanford's alumni magazine, Stanford Magazine. As a freelancer, Isaac has written for the New York Times, Washington Post, Guardian, Wall Street Journal, HuffPost and San Diego Union-Tribune. 
Nina Baker is a journalist from Farmington, Minnesota, who calls Iowa her home. She studies mathematics and foreign languages at Grinnell College, where she is the community editor at The Scarlet & Black, the student newspaper. Her work has appeared in PolitiFact, the Daily Yonder, Ballotpedia and the Kitsap Sun.
Tomás Miriti Pacheco is a poet and journalist from Columbus, Ohio. He is currently completing a B.A. in English and Creative Writing from the University of Chicago.
Porter Wheeler is a student at The University of Oregon studying global studies and cultural anthropology. He writes passionately about class politics and culture through an intersectional lens that centers the disempowered.
Theia Chatelle is a sophomore at Yale University studying English. She currently works at Trans Lifeline and has been involved with the Sylvia Rivera Law Project, the Rikers Debate Project, and A Public Space. She is the Political Action Coordinator at the Yale Women's Center and is an editor at Yale's leftist and feminist magazine, Broad Recognition. Her work has also appeared in CounterPunch
Zoe Sharif is a student journalist, born and raised in New York City. She studies International Criminal Justice and Digital Media & Journalism at John Jay College of Criminal Justice, where she is the editor-in-chief of the student newspaper, the John Jay Sentinel.
Rania Soetirto is a staff writer for the Daily Bruin's quarterly magazine, PRIME. She has previously interned with NBC News' Social Newsgathering team and has worked as a news reporter and arts & entertainment contributor for the Daily Bruin, UCLA's independent student newspaper. 
This intensive sixteen-week fellowship program offers college students the opportunity to write for The Nation and to work with Nation editors and writers to develop skills critical for a meaningful career in journalism. All fellows receive $1,000 stipends thanks to the generosity of The Puffin Foundation. During their Fall 2022 semester, students will publish at least one pre-election dispatch as well as one long-form story after the November elections as they meet regularly with Nation editors and writers and invited guests.