November 23, 2022
Students Tell Their Universities: Keep Fossil Fuel Companies Out of Climate Research
By Lisa Herforth-Hebbert
Amid COP27, members of the Fossil Free Research movement took action around the world, protesting the influence of Big Oil on crucial climate change studies.
By Ilana Cohen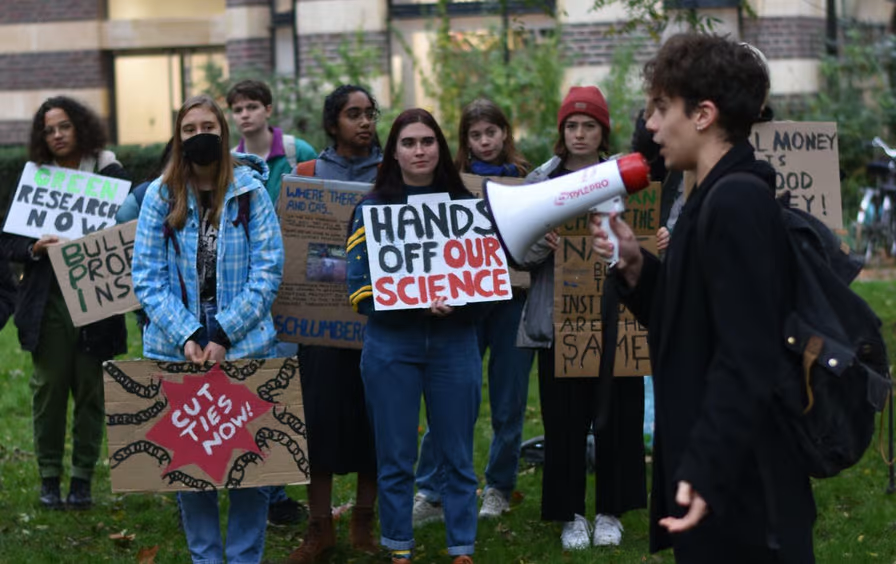 From Stanford and Brown Universities to Imperial College London and the University of Toronto, students at almost a dozen campuses around the world took action last week to push their universities to ban fossil fuel industry funding for climate research. This week of action was the latest outgrowth of the Fossil Free Research movement, which has spurred public discourse after Princeton pledged to divest its endowment and reject fossil fuel money. It also comes in the wake of reports that a record number of fossil fuel industry lobbyists flooded international climate talks at COP27, the United Nations Climate Change Conference, bringing the specter of the industry's protracted role in climate denial into clear view on the global stage. Hundreds of students participated in Fossil Free Research actions across the US, the UK, and Canada.
As one of the lead organizers of the Fossil Fuel Divest Harvard and Fossil Free Research campaigns, I am certain that taking action against the influence of Big Oil money on research is urgently needed for a just, rapid energy transition. Last week, Chelsey Gilchrist, a fellow Fossil Free Research organizer and student at Ohio State University who dropped a banner from the campus's main library, described the campaign as intuitive as well as urgent. "For Ohio specifically, where coal and oil have been the center of political bribery, public health hazards, and economic injustices, the university's association to fossil fuel companies is a sick form of mockery to the state it represents," said Gilchrist.
Just two weeks ago, economists at Columbia University published a study finding that fossil fuel industry-funded research centers produce reports more favorable towards natural gas. The slant is so strong, the study found, that the magnitude of such support for natural gas including at MIT, Columbia, and Stanford was indistinguishable from that of major industry trade associations. And only last week, The Boston Globe reported that a study on the viability of so-called green hydrogen from researchers at UMass Lowell was funded by natural gas industry interests that would benefit from the study's outcome.