January 13, 2023
Did Avoiding the "Big Lie" Help the Iowa GOP Win Big?
By Lisa Herforth-Hebbert
With unified messaging and a reluctance to embrace election denialism, Republicans in Iowa were able to outperform the party nationally and secure nearly every statewide office.
By Nina Baker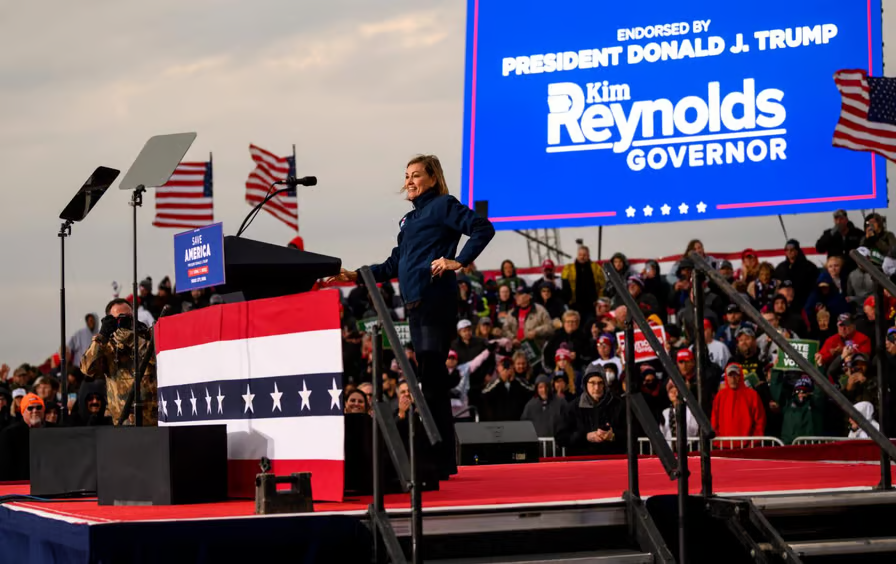 While Democrats defied expectations of a national "red wave" sweeping the United States in the 2022 midterms, Republicans in Iowa gained a level of control in the state not seen in decades. Iowa's four US representatives and its two senators are now Republicans. In Iowa's state legislature, the party holds a supermajority in the state Senate and controls 60 of Iowa's 100 seats in the state House. The Iowa GOP managed to secure every statewide office but one—state auditor.
Why were Iowa Republicans able to outperform Republicans nationally? One factor, according to some political scientists, was the Iowa GOP's reluctance to embrace election denialism. In New Hampshire for example, the race between Democratic incumbent Chris Pappas and pro-Trump challenger Karolina Leavitt in the state's First Congressional District was rated a toss-up by The Cook Political Report. Yet Pappas—like many House Democrats across the country—exceeded expectations and won by a more than seven-point margin. In general, the trend held across the country; a New York Times analysis found that in competitive congressional districts, Trump-aligned Republicans lost half a point from the Republican vote margin in the 2020 election, compared to a gain of over six points for other Republicans.
"None of the Iowa candidates went down that path," said Peter Hanson, professor of political science at Grinnell College. "What we saw in Iowa was really what the midterm elections would have been expected to look like nationally if Republicans had fielded better candidates who ran on more typical issues." Iowa Governor Kim Reynolds, who won reelection with a nearly 15-point margin, had campaigned with Trump in November. But merely supporting Trump, or receiving his endorsement, does not have the same effect as denying the results of the last presidential election, said Hanson. "These candidates are a pretty different mold than the candidates we saw in the races like Pennsylvania or Arizona, where you have Republicans who were flat-out attacking the legitimacy of the 2020 election."