November 9, 2021
EVENT: Inside the Newsroom – International Reporting
By Sarah Burke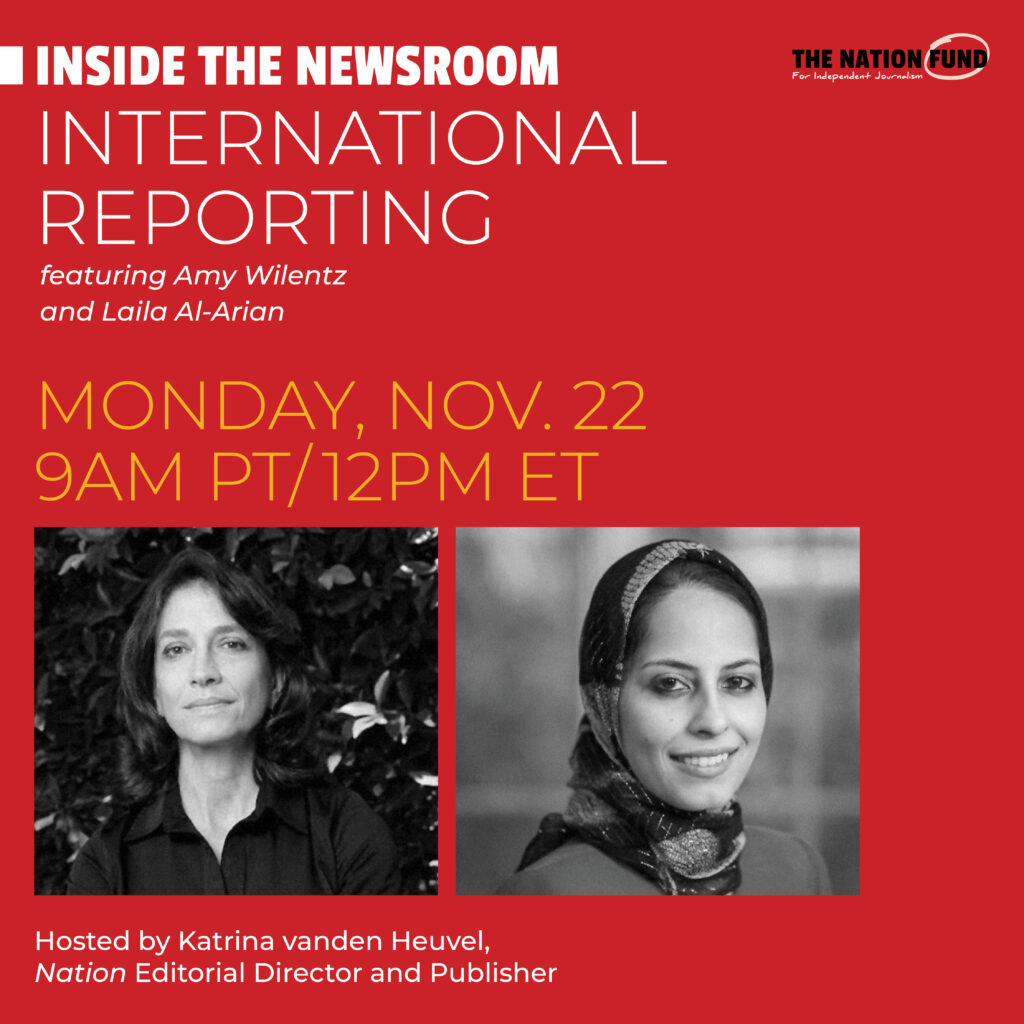 Despite its name, The Nation has always tried to devote time and resources to reporting on important people, places, and events taking place outside of the United States. One of The Nation's most honored longtime contributors, Amy Wilentz, the former Jerusalem correspondent for The New Yorker, was also one of the magazines' first editorial interns. One of the country's premier experts on Haiti, Wilentz is the author of Farewell Fred Voodoo: A Letter From Haiti (2013), for which she won the National Book Critics Circle Award and The Rainy Season: Haiti Since Duvalier (1990) as well as Martyrs' Crossing (2000), and I Feel Earthquakes More Often Than They Happen: Coming to California in the Age of Schwarzenegger (2006). She is the winner of the Whiting Writers Award, the PEN Martha Albrand Non-Fiction Award, and the American Academy of Arts and Letters Rosenthal Award. In 1990 she was shortlisted for the National Book Critics Circle Award for nonfiction for The Rainy Season.
Emmy and Peabody Award-winning journalist, filmmaker and the executive producer of Al Jazeera's flagship U.S investigative documentary program, Fault Lines, Laila Al-Arian has more than 15 years of experience in multimedia journalism, including print, digital and video. Currently focusing on the intersection of immersive storytelling and investigative journalism, Al-Arian is a journalist, writer and filmmaker based in Washington DC. For her investigative documentary "Made in Bangladesh," she received the Peabody award and Robert F Kennedy Award in journalism, and an Emmy nomination. She is the co-author of "Collateral Damage: America's War Against Iraqi Civilians." She started her career as a Nation intern.
This conversation will be hosted by Nation Editorial Director and Publisher and former intern Katrina vanden Heuvel. Both Wilentz and Al-Arian will discuss the challenges and triumphs of their work. Join this important conversation about power, imperialism and forcing change. There will be plenty of time for audience questions.
Tickets are free, but registation is required. Sign up to join us!