November 22, 2021
What Can We Learn From the NYU Graduate Union's Historic Strike?
By Sarah Burke
The successful strike earlier this year was not organized overnight—it took months of preparation and outreach efforts.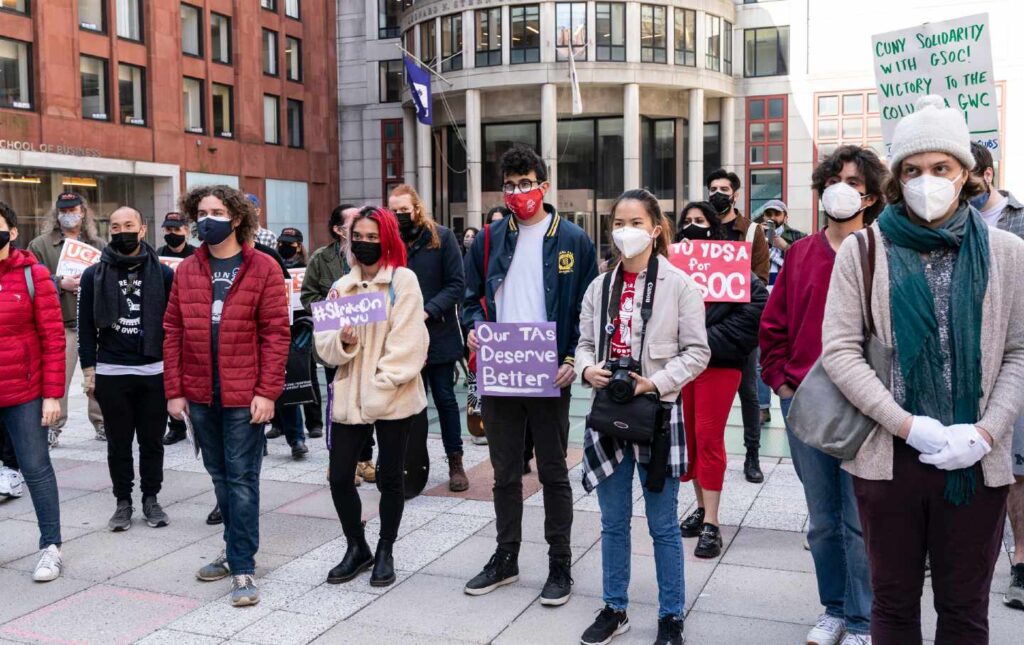 When Arundhati Velamur was in the fourth year of her education PhD program at New York University, she often had conversations with her colleagues about how their department seemed to only hire external candidates for faculty positions. "It was something we kept talking about, and a lot of us were wondering how we could bring this issue up to our department," said Velamur, who went to the Steinhardt School of Culture, Education, and Human Development. "So we went to the graduate student union and asked how they could help us."
New York University's Graduate Student Organizing Committee (GSOC) quickly responded, putting Velamur and her colleagues in touch with their departmental steward, the first line of contact for members with grievances, and helping them learn more about the ongoing efforts to negotiate a new contract for graduate student workers. "At this point, I was already seeing emails from GSOC in my inbox, but the help with the department organizing helped show me that this organization could really effect change on campus," Velamur said.
In 2002, NYU's graduate union, which is associated with United Auto Workers (UAW) Local 2110, became the first graduate union to be officially recognized by a private university after a semester-long strike, and since then union organizers have been increasing the rights of graduate workers by fighting for increased stipends and employee benefits for graduate workers. None of these worker benefits have come easily; the union has never been able to negotiate with the university without the looming threat of a strike.